You are here
EXPLORING AND ENJOYING
 During the school year infant and primary students enjoy and learn with a wide and varied range of co-curricular pursuits to enable them to pursue their interests and to develop new ones. These reflect the diverse skills, interests and enthusiasms of our community.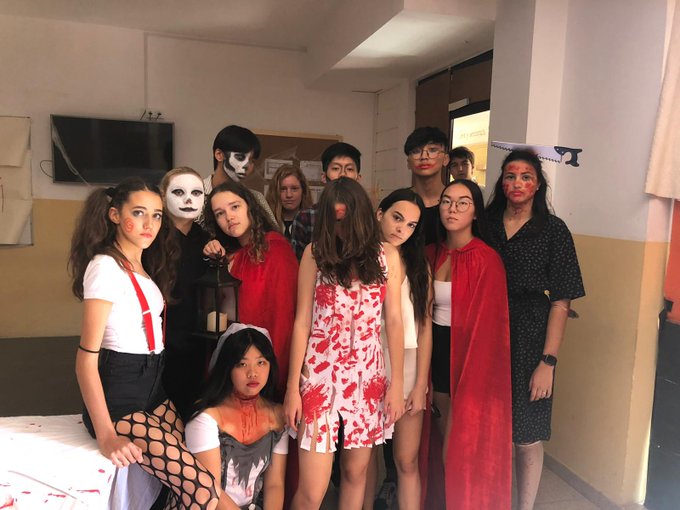 We celebrate Science & Tech
We celebrate all cultures
Halloween and Thanksgiving 
 All through the morning lessons, students will enjoy the culture and games regarding Halloween traditions all over the world. Since it is very important to recreate a great and amazing class environment it would be great if you could collaborate with any decoration.
At infant school, the parade will take place after their lunch so they can all be delighted with the costumes of their friends. Music and a final great dance with all the children show the end of the terrifying day.
Second and third-cycle students will perform a great outdoor Gymkana in which they should create a zombie or a spider web, the best group is the winner!!! For 5th and 6th all these classroom activities will be organized according to their apps in the ipads. A party will be provided at the end of the lessons.
Halloween is a celebration on the night of October 31. It is most practiced in the United States and Canada, NOW coming to our school to provide enjoy full activities to our kids and teachers. Children wear costumes and go to other mate class saying "Trick or treat!" to ask for candy (sweets in the UK) . The suggestion is: "Give me a treat or I will play a trick on you." People mainly dress up as ghosts, witches, or other scary things for Halloween. Wearing a costume may come from Celtic festivals of Samhain . Early costumes are usually scary. They are often supernatural beings or from folklore. In the 1930s costumes of characters from literature, radio, or movies became popular. In our school, other costumes are very popular. in our Library older students set a scary performance.
Art workshops. 
For Christians it is the eve of All Saints' Day, which begins the three-day observance of Allhallowtide. This covers the three days – October 31 (All-Hallows Eve or Hallowe'en), November 1 (All Saints) and November 2 (All Souls). All Hallows' Eve is a Christianized feast influenced by Celtic harvest festivals, and pagan roots. In Canary Islands people use to walk to search nuts and roat or cook  them to make cakes remembering their ancestors. 
3º a 5º de primaria
Taller: Superhéroes que defienden los
derechos de los niños.